Venue: Zoom
Date: 24th January 2023
Time: 12:00 - 1:30pm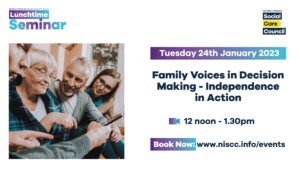 Presented by:
Part 1: Paula McCann – NHSCT Family Group Conference Service
Part 2: Julie Allen/ Kim Leebody – Belfast and SETrust
Part 3: Davina Clements – Barnardos' (Southern Trust)
This lunchtime seminar will aim to give attendees an understanding of the model, values and principles underpinning the Family Group Conference (FGC) as a restorative and relational practice. An understanding of the independant role of the coordinator and its importance in working collaboratively with families. An understanding of FGC services available in their locality and how they can improve decision-making outcomes for children and their families across child protection, family support and early intervention and hear examples of practice and feedback from families and professionals.
Book your place HERE
Further Info: Brian.Moylan@niscc.hscni.net
Closing date for bookings: 24th January 2023