Venue: Zoom
Date: 9th November 2022
Time: 12:00 - 1:30pm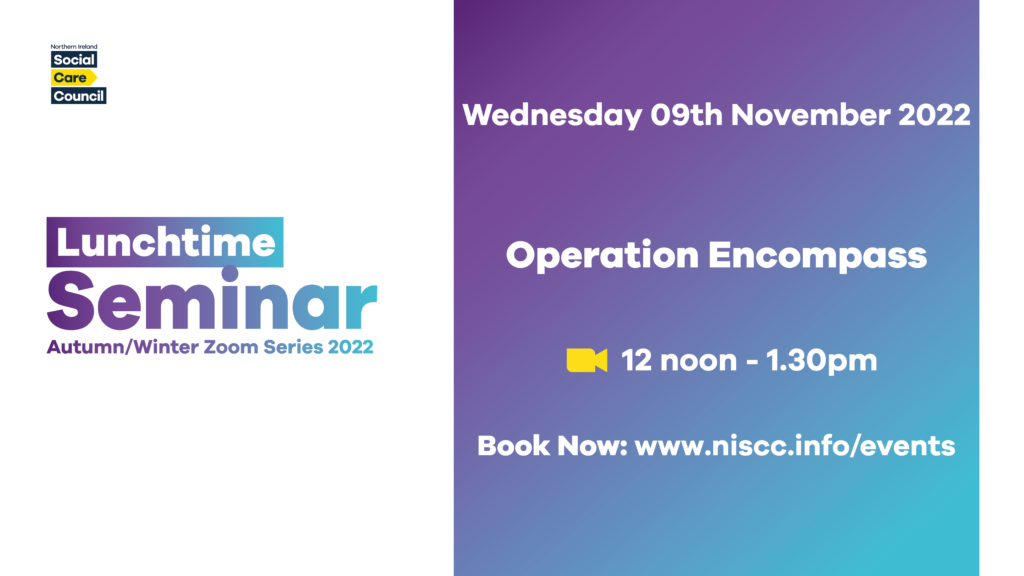 Presented by:
James Draper, Operation Encompass Project Lead, Education Authority
Operation Encompass is an early interevention partnership between the Police and Schools to meet the needs of children who have been victims of domestic violence and abuse. Operation Encompass started in England and Wales over a decade ago and is now being rolled out across Northern Ireland.
This seminar aims to educate attendees on the:
Background to Operation Encompass and the context of children as victims of domestic abuse.
Update on the enabling legislation within the The Domestic Abuse and Civil Proceedings Act (NI) 2021.
Information about the SBNI pilot project of Operation Ecnompass in approximately 140 schools in the Newry, Mourne and Down area.
Briefing on the plans for a regional roll out of Operation Encompass in 2022/23.
What Operation Encompass means for child protection social workers in their work with schools and families affected by domestic abuse.
Book Your Place Here
Further Info: Brian.moylan@niscc.hscni.net
Closing date for bookings: 9th November 2022