Venue: Zoom
Date: 23rd April 2021
Time: 10am - 12noon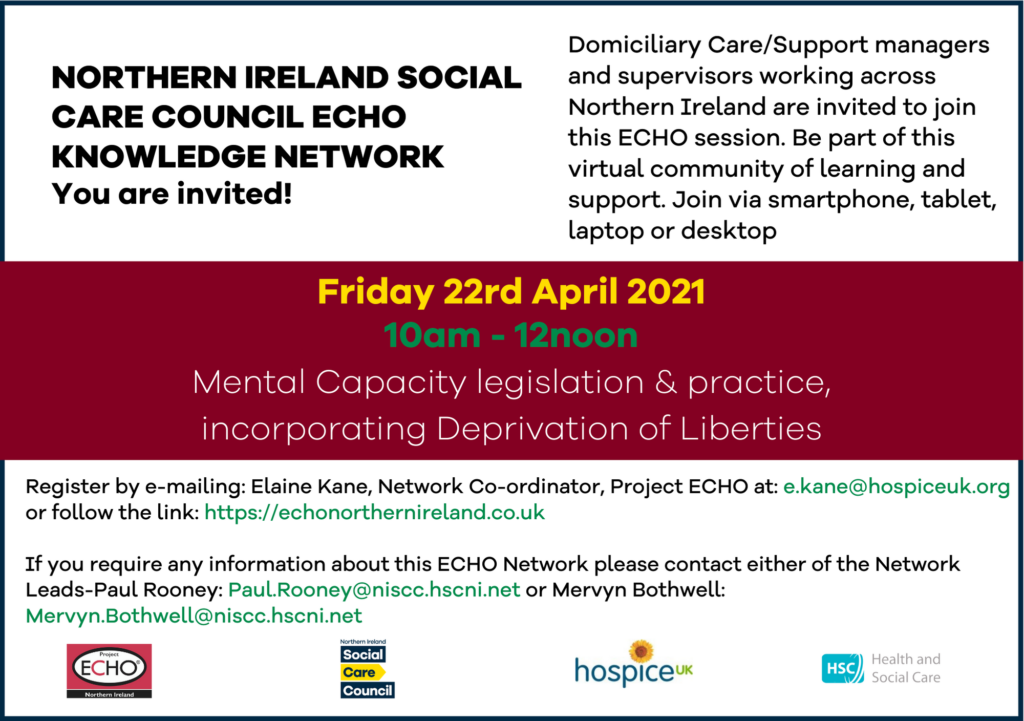 The 'Northern Ireland Social Care Council ECHO Knowledge Network' Hub would like to invite Care at Home (Domiciliary Care and Supported Living) Managers and Supervisors across all sectors in NI,  to join the virtual session scheduled for 23 April 2021; see agenda below.
The theme for the session is Mental Capacity legislation and practice, incorporating Deprivation of Liberties.
Dr Nazia Latif from Right Practice will present and be available for discussion and feedback.  Nazia's presentation and the discussion will include issues such as
raising awareness of Mental Capacity legislation, guidance and best practice
the legal requirements and implications for Care at Home providers
how Care at Home providers can be supported now in relation to Mental Capacity and Deprivation of Liberties requirements and issues
how the pandemic has impacted on Deprivation of Liberties and what the learning has been during COVID
 This ECHO session will also provide an opportunity for mutual sharing as part of the 'COVID-19 Update'  
If you have not previously registered for the Northern Ireland Social Care Council ECHO Knowledge Network, please do so by contacting Elaine Kane at Project ECHO NI by close of play on Wednesday 21 April 2021 at the latest (e.kane@hospiceuk.org).
AGENDA
10:00-10:05: Welcome, Introductions and Housekeeping- Paul Rooney and Elaine Kane
10:05-10:55: Presentation-Mental Capacity legislation and practice-Dr Nazia Latif
10:55-11:00: Comfort break
11:00-11:40: Mental Capacity legislation and practice continued-Dr Nazia Latif, including opportunities for questions, feedback and discussion
11:40-11:55- COVID-19 update & discussion-All, facilitated by Paul Rooney
11:55: May 2021 ECHO session-Mervyn Bothwell
Further Info:
If you require any information about this ECHO Network please contact either of the Network Leads-Paul Rooney:
Paul.Rooney@niscc.hscni.net
or Mervyn Bothwell:
Mervyn.Bothwell@niscc.hscni.net