31 May 2023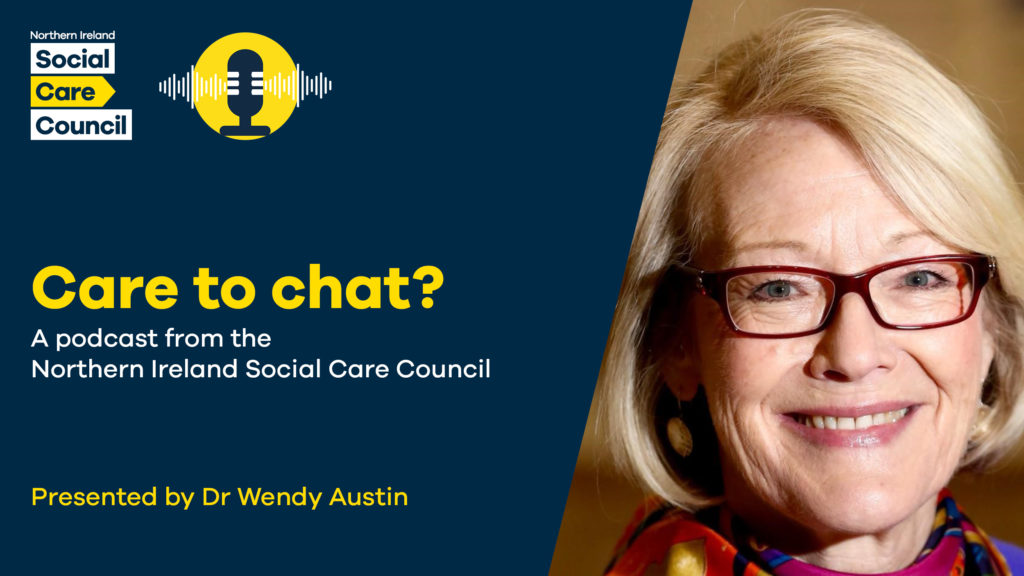 The Northern Ireland Social Care Council (the Social Care Council) is today launching its podcast channel, 'Care to chat?'.
'Care to chat' is a series of podcasts hosted by Dr Wendy Austin that highlight the Social Care Council's commitment to supporting the social care and social work workforce and its ongoing conversation about the work of regulation in those professions in Northern Ireland.
'Care to chat' features a broad range of conversations and interviews with people in the social work and social care community, as well as from across the health and social care system.
Initially launching with the release of three episodes, the 14-episode series discusses things that matter to social workers and social care workers, inform their learning and development address common questions, and talk about what we can do to best support the safe delivery of quality health and social care in Northern Ireland from a professional and service user perspective.
The first three podcast episodes, released today, feature social care workers and others talking about their experiences and professional routes into and out of social care, a conversation with Koulla Yiasouma who recently finished in her role as Children's Commissioner about what has led her to continue to be a registered social worker throughout her career and a range of experts talking about a resource to support the resilience and wellbeing of the social care workforce.
Social Care Council Chief Executive Patricia Higgins said that the podcast channel, provides opportunity for discussion about the significant contribution of the social care and social work professions and the essential role of regulation as part of health and social care in Northern Ireland.
'These conversations highlight what's important to social care workers and social workers both in terms of their professional development and learning, and the role they play as part of our health and social care system. We hear the views of social care workers, social workers, their managers and people who use social care services. We hear about the challenges are they face and the way social workers and social care workers are overcoming these to ensure their standards of practice are maintained for the people they support every day. We hope this series reflects that, and strikes a chord with everyone interested in social care and social work in Northern Ireland.'
Find out more by subscribing to the Social Care Council's 'Care to chat' podcast channel. New episodes released fortnightly. Available on Spotify, Google podcasts, Apple, Overcast, Castbox and the 'Care to chat' show page on our website: niscc.info/care-to-chat-podcast.
Feedback or comments about the 'Care to chat' podcast channel, or any of the downloadable episodes, are welcome by emailing: comms@niscc.hscni.net.
For more information:
For media queries contact: Rita Lewtas, Head of Strategic Communications and Engagement on

Rita.lewtas@niscc.hscni.net

or call 07874682049.
Summaries – Episodes 1-3:
Social care reform – Made with care (38mins)
In our first episode, we hear directly from people who have worked in social care about their experiences, the different kinds of professional routes they have taken into and out of social care, how they developed their careers, why social care is for them and what's influenced their professional practice. This episode features Teresa Miles a Social Care Manager from Belfast Central Mission, Elaine Pollock, currently a social worker with the South Eastern Health and Social Care Trust and Maggie Conlin a social care worker based at Lakeland Community Care in Omagh.
'I am a registered social worker…A conversation with Koulla Yiasouma (32mins)
For our second episode, we hear from Koulla Yiasouma in conversation before she finished up in her role as Children's Commissioner this spring. Wendy talks to Koulla about what got her interested in becoming a social worker in the first place and why maintaining her registration throughout her career and into her role as the Children's Commissioner was important.
They take care of us – let's take care of them (45mins)
In our third episode our host Dr Wendy Austin speaks to a team of Social Care Council staff and experts behind the development of a resource for social care workers that aims to support their resilience and wellbeing. Never heard of neurolinguistic programming? This resource shows how this therapeutic approach can make a difference to social care workers in their day-to-day practice and we hear why this resource was developed in the first place. Find the resource here.