Miss a Lunchtime Seminar or want to revisit something you missed during a presentation?
No problem, on this page you'll find recordings of the seminars, videos and presentations from our previous events. If you wish to attend future events find out more by visiting our Events Page.
*Not all Seminars are recorded
**The presentations remain the property of the organisation/presenter(s) and cannot be used by anyone else
---
28th June 2022
Social Care and Social Work – What Impacts on Being Able to do It Well?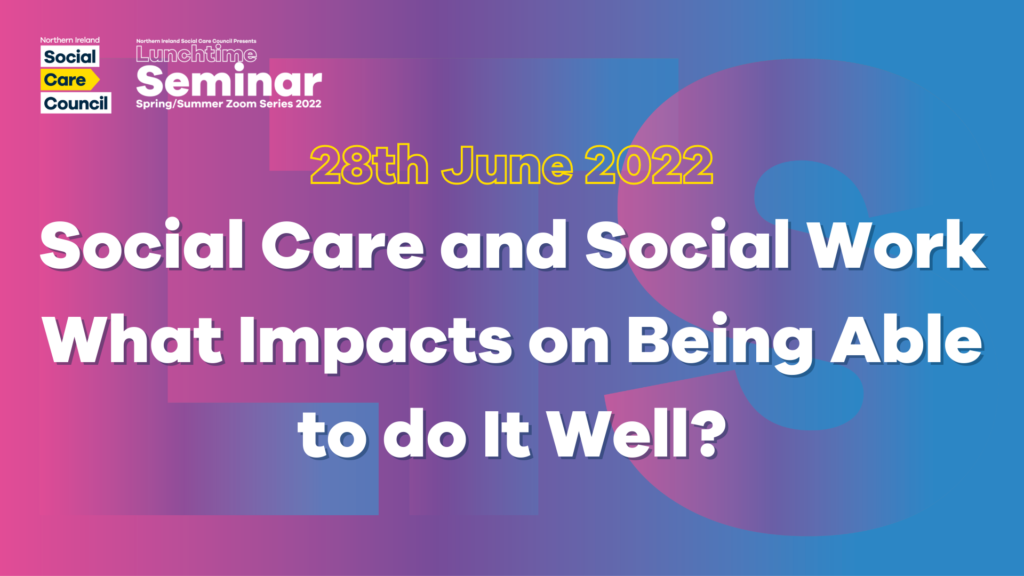 ---
20th June 2022
Shining a Light on Social Work and Co-Production – A Call to Action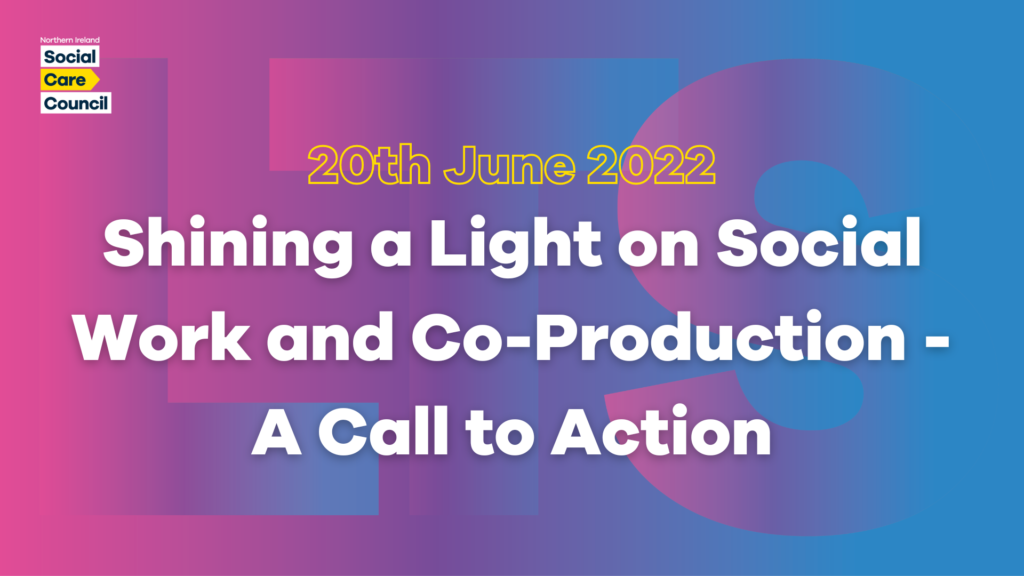 ---
18th May 2022
The Benefits of Using "MoneyHelper" when Engaging with Young People and their Carers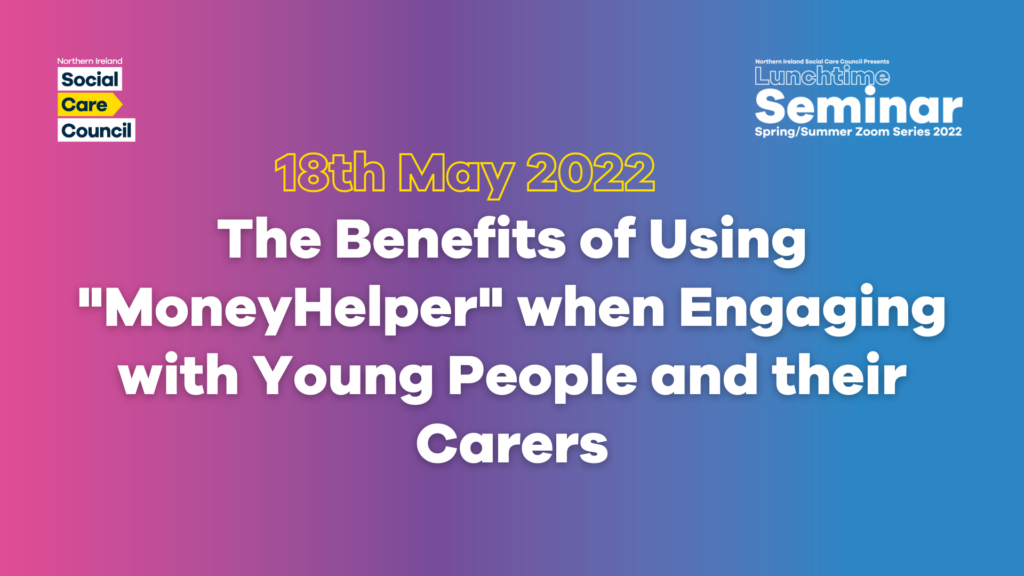 ---
10th May 2022
Communication with Older Deaf Sign Language Users
---
26th April 2022
Loneliness: The Role of Social Work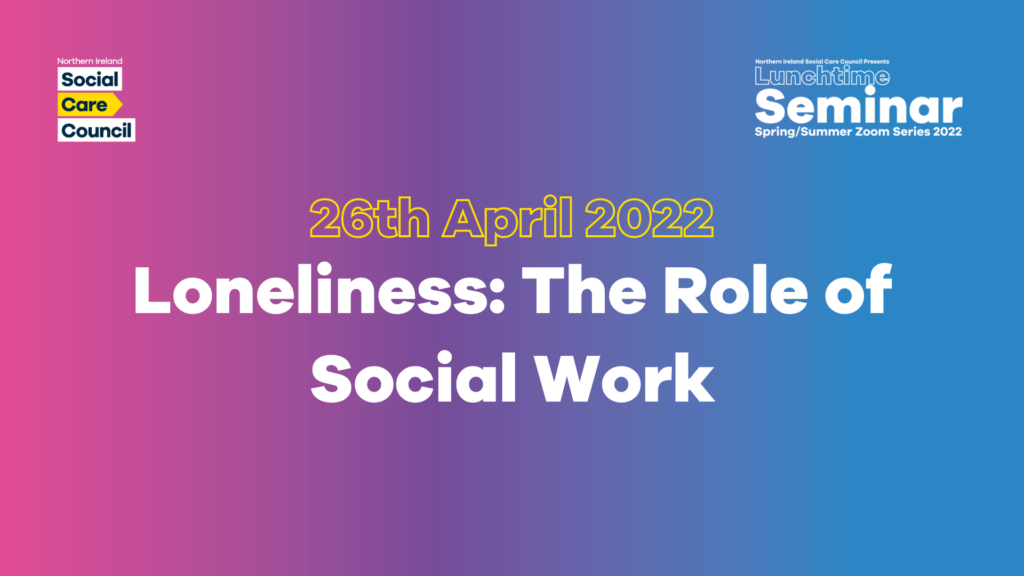 ---
28th March 2022
Voices from child and family social work: What difference can a systemic approach make?
---
9th March 2022
The Relevance of the Tavistock Model of Infant and Child Observation to Social Work Practice
---
23rd February 2022
Challenges and Opportunities when working with Mothers who Misuse Substances and Implications for the Care System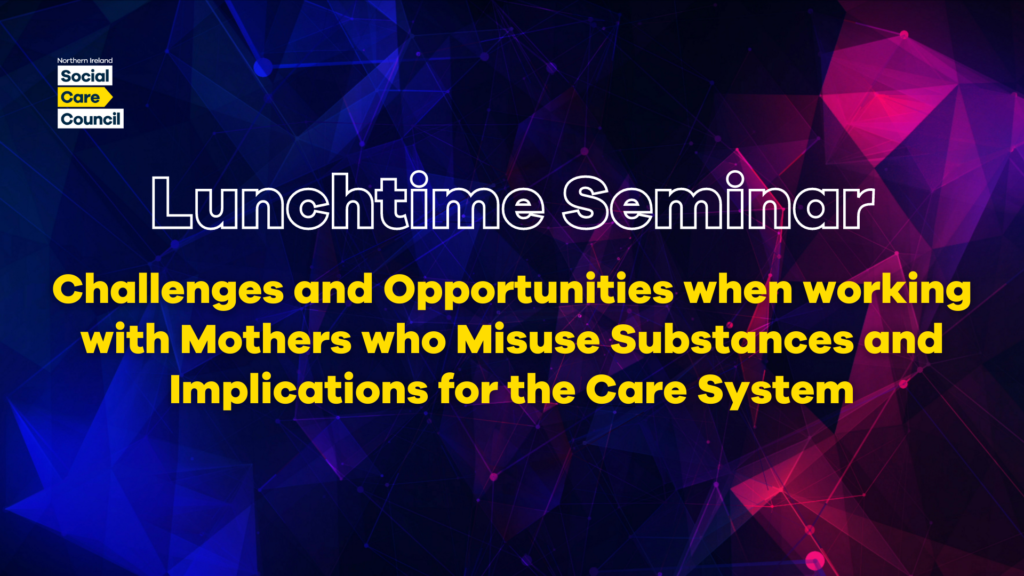 ---
13th December 2021
Mental Capacity Act Development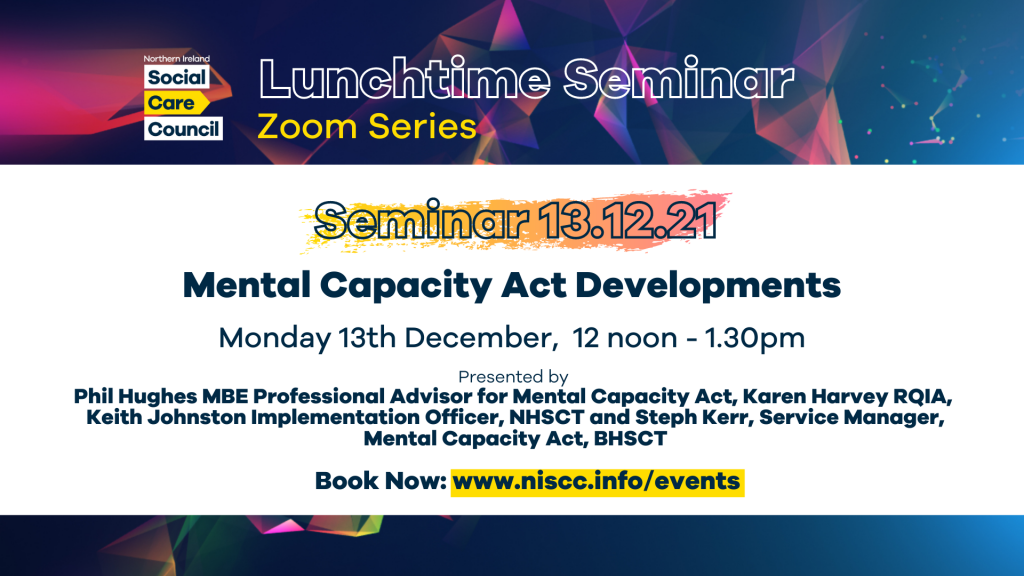 Click here to download the factsheet
Click here to download the Q&A
---
07th December 2021
Resourcing Northern Ireland's Social Care workforce to support people with grief and bereavement: Launch of Grief and Bereavement Resource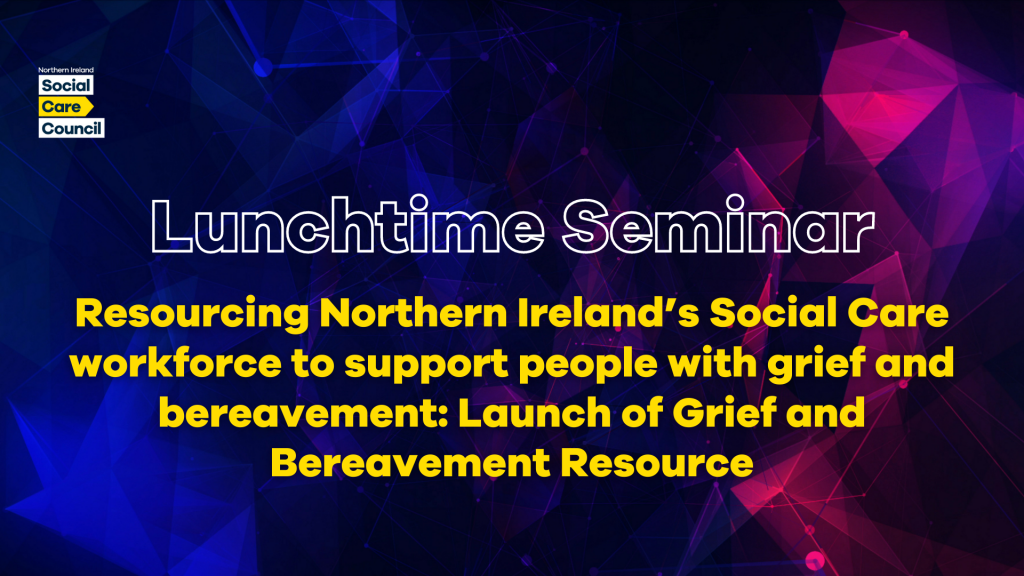 ---
23rd November 2021
Health and social care workers' quality of working life and coping while working during the COVID-19 pandemic: May-July 2021 Phase 3 Results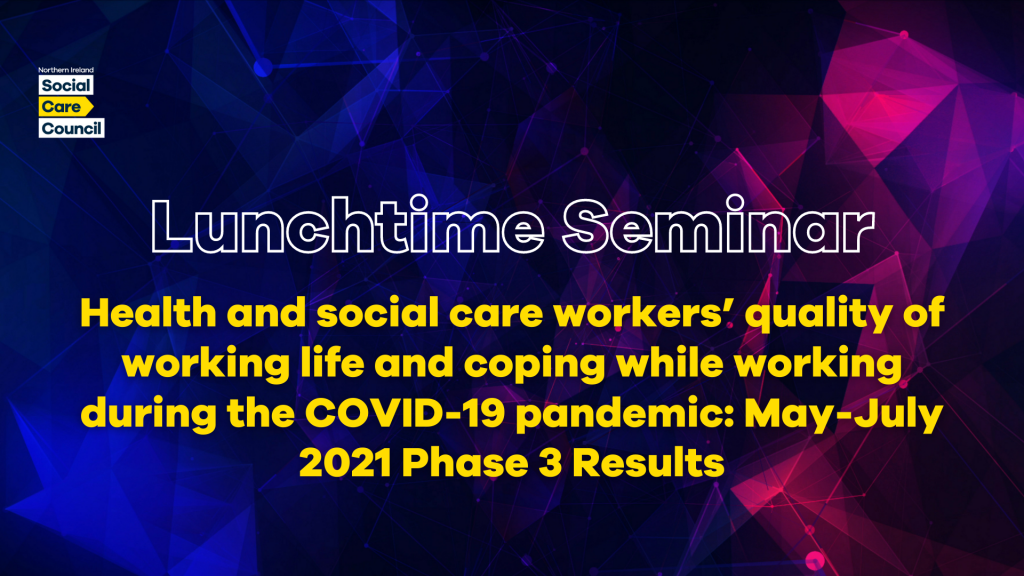 ---
12th October 2021
Covid – Delivering Person Centred Support Services for Children with a Disability and their Families in Times of Risk, Change and Uncertainty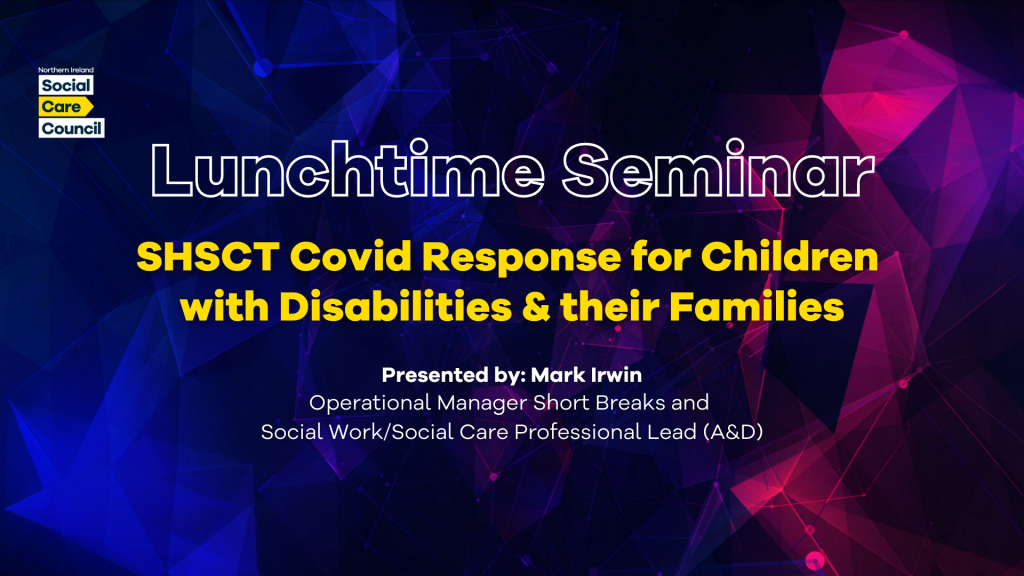 ---
28th September 2021
Mental Capacity Act Developments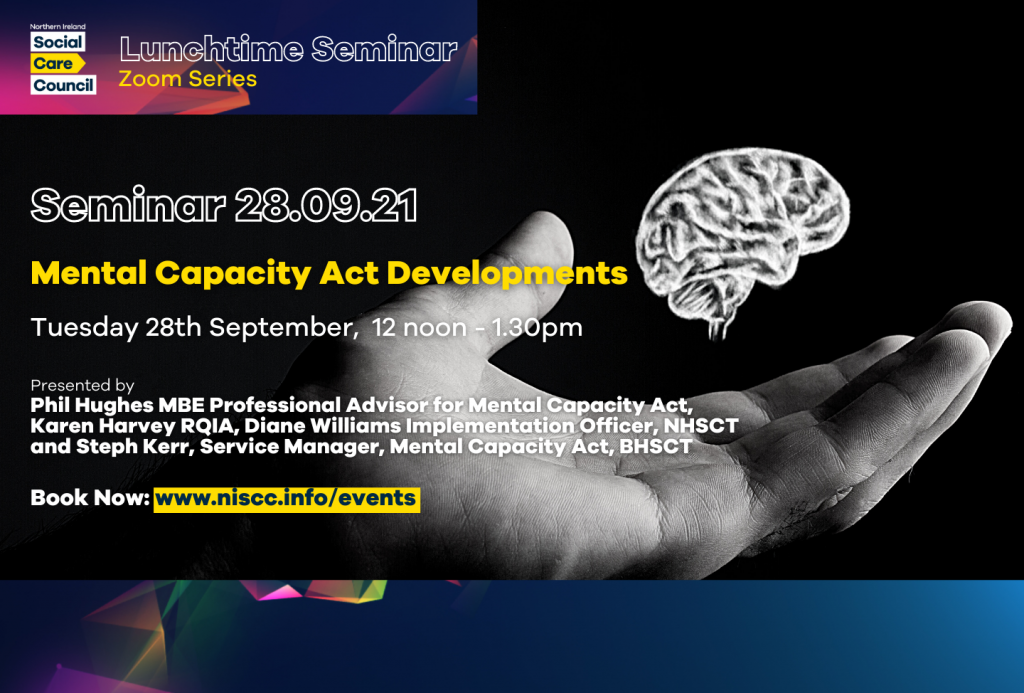 Click here to download the presentation PDF
Click here to download the factsheet
Click here to download the Q&A
---
29thJune 2021
Self Directed Support, Direct Payments & Supporting Personal Assistant Employers


Presented by Deena Nimick, Chris Meneilly and Megan Leschinsky


Click here to download the presentation
---
22nd June 2021
Northern Ireland Children's Hospice: Service Adaptation and Learning from COVID 19


Presented by Northern Ireland Children's Hospice Family Support Team


Additional Videos from the Presentation


---
The influence of paramilitarism in Northern Ireland on the recognition of child sexual exploitation in young males


Presented by Dr Jacqui Montgomery-Devlin


---
11th March 2021
Coproduction: Does training lead to any real change and the challenges in social work practice


Presented by Patricia Burns and Sonia Patton


---
HSC COVID-19 Workforce Wellbeing and Coping Study Phase 2 results


Presented by Dr Paula McFadden, Dr Patricia Gillen and Dr John Moriarty


---
09th Feb 2021
Trauma & Relationships in Adoption & Fostering


Presented by Fiona Templeton, Elizabeth Lyttle and Laura Butler


---
13th Jan 2021
Trauma Informed Practice across the System


Presented by Sheina Rigg – Safeguarding Board for NI


---
02nd Dec 2020
Introduction to Belfast Recovery College


Presented by Michael McGowan, John Morgan and Thomas Fisher


---
17th Nov 2020
Potential Impediments to the Recognition of the Sexual Exploitation of Young Males under the age of 18


Presented by Dr Jacqui Montgomery-Devlin, currently Head of Safeguarding for the Presbyterian Church in Ireland


---
19th Oct 2020
Mainstreaming Community Development in Social Work


Presented by Social Work Candidates from 2018-19 Community Development Approaches Programme, SHSCT


Download the Presentations:


---