03 March 2023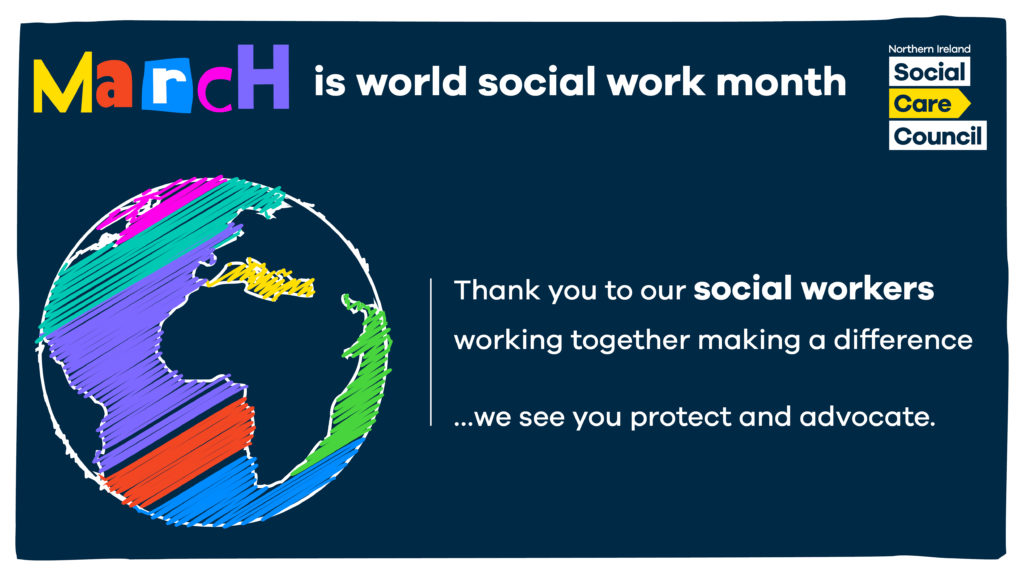 Throughout March the Northern Ireland Social Care Council (the Social Care Council) is taking the opportunity, alongside others in the sector, to celebrate Northern Ireland's incredible social workers, and recognise their work as champions for social justice, co-production, diversity and inclusion.
Each year, World Social Work Month is celebrated across the globe to recognise the important work of social workers worldwide. The theme of this year's World Social Work Day later in March is 'Respecting diversity through joint social action'.
Social Care Council Chief Executive, Patricia Higgins said:
'We want to thank our social workers and acknowledge their invaluable work as advocates for diversity and inclusion, representing those who are often the most marginalised in society. This work is even more important during the challenging times we are experiencing in our health and social care system. At the Social Care Council, we are passionate about supporting best practice in social work, including the importance of diversity and inclusion both within the profession and in practice.'
This March the Social Care Council are asking the community, including other health and social care professionals, to say 'thank you' to social workers and acknowledge the sometimes-hidden, but often life-changing contribution social workers make.
Stay tuned!
It is a time to reflect: Later this month we will be publishing a video series of reflections from social workers who have travelled different professional journeys. In the meantime if you want to reflect on some important aspects of social work, the Department of Health NI has published five reflection statements on co-production, mental health, strengths-based practice insights, homelessness and anti-poverty practice.
Looking for a career as a social worker? To train to be a social worker in Northern Ireland (NI) you need to complete the Honours Degree in Social Work. Check out our Interested in becoming a social worker? page for more information.


---
For more information:
Rita Lewtas, Head of Strategic Communications and Engagement
07874682049