12 January 2022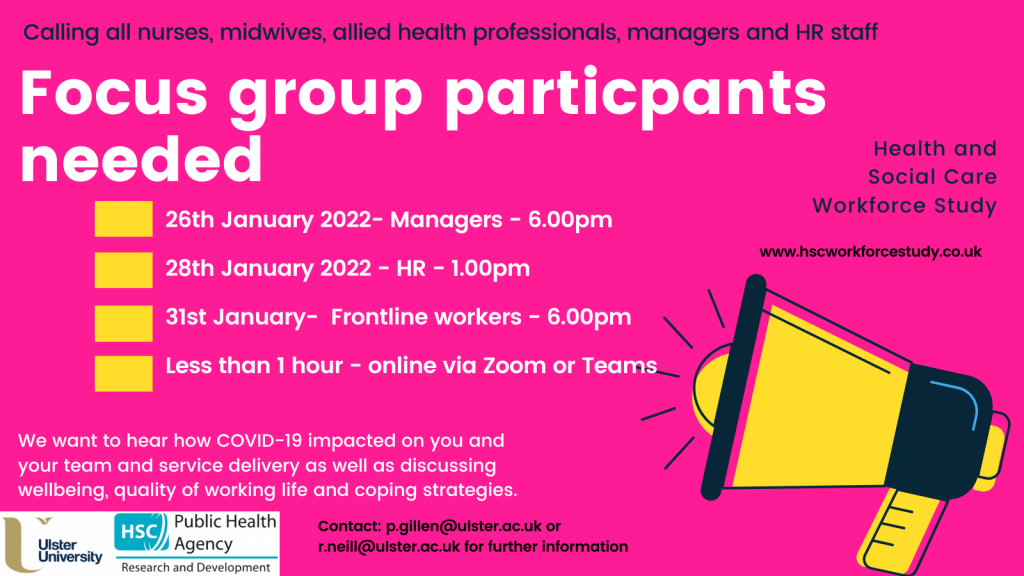 Working during Covid-19 we want to hear from you again! Please help with this Health and Social Care Workforce Study.
Are you a social worker or social care worker who is currently employed or self-employed (or working for an agency) within any area of practice in the UK? Are you a frontline worker, manager or in HR? We want to understand more about your quality of working life and coping in relation to the COVID-19 Pandemic.
The Health and Social Care Workforce study launched its fourth phase on the 24th November 2021. The fourth survey can be accessed by clicking here which will take you to some further information on the study and a questionnaire which will take 15 minutes to complete.
Recruitment is now open for focus group participants with three focus groups taking place on:
26th January 2022 – Managers Focus Group – 6pm
28th January 2022 – HR Focus group – 1pm
31st January 2022 – Frontline workers focus group – 6pm
The focus groups will take place online and should last no longer than one hour. It will provide you with an opportunity to tell us how COVID-19 impacted on your team and service delivery as well as discussing wellbeing, quality of working life and coping strategies. Your views will then be used to help us design good practice recommendations for managers, employers and regulators on how to best support this workforce, both during the pandemic, as well as the business as usual times. If interested please contact Ruth Neill on r.neill@ulster.ac.uk or Patricia Gillen on p.gillen@ulster.ac.uk