28 June 2023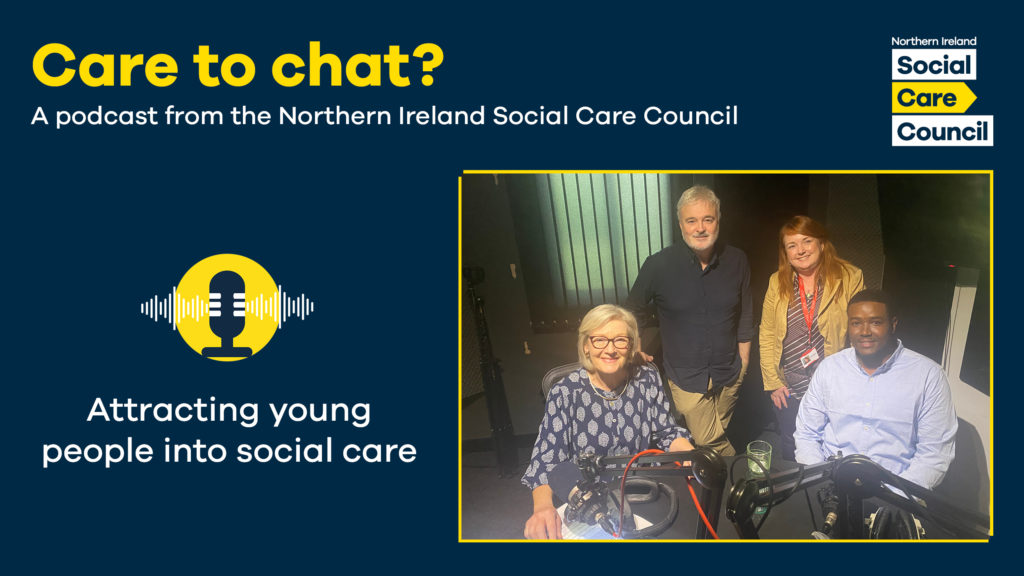 Everyone's journey into working in social care is different. None more so that Dr Wendy Austin's latest guest Issadin Ahmed.

In a new episode of the Social Care Council 'Care to chat', we hear about Issadin's story as a young 28-year-old Somalian asylum seeker who recently gained his first role in social care through a pilot collaboration between the Social Care Council and Princes Trust, encouraging young people into social care.

Host Dr Wendy Austin MBE, is also joined by Paul Rooney, Professional Advisor, Social Care Council and Deirdre Gallagher, Youth Development Lead, Prince's Trust, as they share what make's Issadin the right person to work in social care.
Paul Rooney, summarises it very well when he says:
"Health and social care is very value-based, and just listening to Issadin today, about the bucket loads of values that he's brought to Northern Ireland in spadeful's. So, you know, you can teach technical skills and develop new experiences along the way and those opportunities are right across the health and social care system.

But you have, you know, those personal attributes…compassion, kindness, support… And when you get good care and you receive good support for our citizens out there, you know it? You know it is meaningful and it make a difference. And hopefully Issadin you will make lots of difference in the future."

The Social Care Council releases a new episode every fortnight, discussing current topics about social care and social work regulation in Northern Ireland. Download, subscribe and listen to the latest Social Care Council 'Care to chat?' podcast episode today here, or by searching 'Care to chat' in your podcast player.
For more information
If you have questions or feedback about the podcast, email comms@niscc.hscni.net.