18 October 2023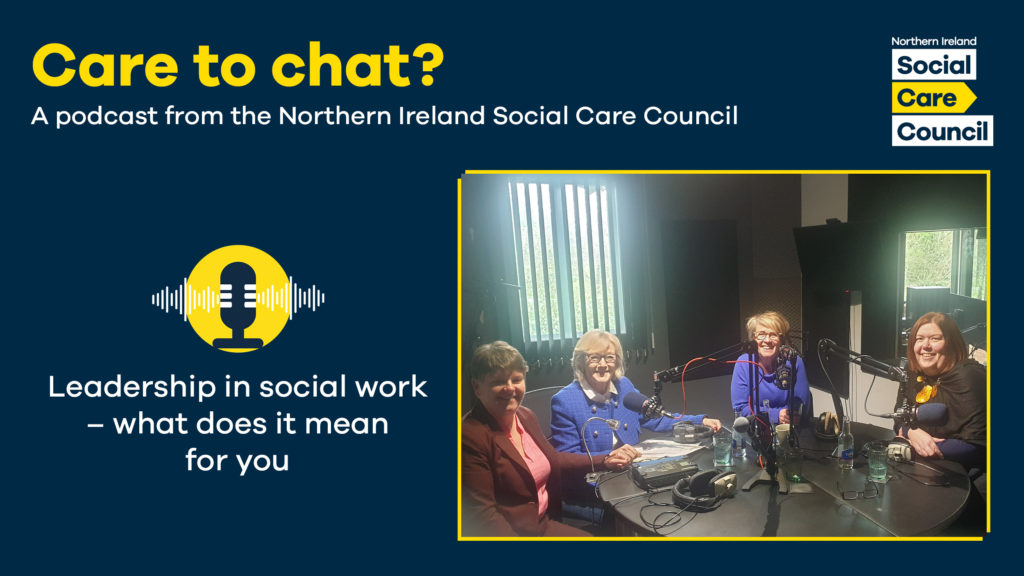 This new Northern Ireland Social Care Council 'Care to chat' podcast episode focusses again on leadership – which is a crucial part of how to get health and social care right. This time it is looking at leadership from within the profession of social work. Leadership from within social work is even more important given the diverse area of support social workers provide for individuals, families and communities.
In this episode the social work leaders in Northern Ireland, Maura Dargan, Executive Director of Social Work and Divisional Director of the Children's and Young Peoples Division, Northern Health and Social Care Trust, Michelle Janes, Director, Barnardos NI and Vivian McConvey, former Chief Executive, Patient Client Council, sit down with host Dr Wendy Austin MBE and talk about the breath of social work leadership across services, what leadership means in social work and that its time to look at leadership from a different and more integrated point of view.
Vivian McConvey said:
"When you think about leadership…I'll talk about it in two levels, one is with staff and then the other is with people that we work with, and getting people to get to the table and be involved and engaged and leading out in their own life.
She continued:
"The first thing they will do is to look around and if you want to learn something, you get alongside someone else who's doing it really well. And for organisations and for us as managers, or any manager, you need to make the environment right. Assisting people to look after themselves, having the right circumstances in which you support them, giving them opportunities, not having a control and command, working with flexibility, working in the grey."
For more information
The Social Care Council releases a new episode every fortnight, discussing current topics about social care and social work regulation in Northern Ireland. Download, subscribe and listen to the latest Social Care Council 'Care to chat?' podcast episode today here, or by searching 'Care to chat' in your podcast player.
If you have questions or feedback about the podcast, email comms@niscc.hscni.net.