26 July 2023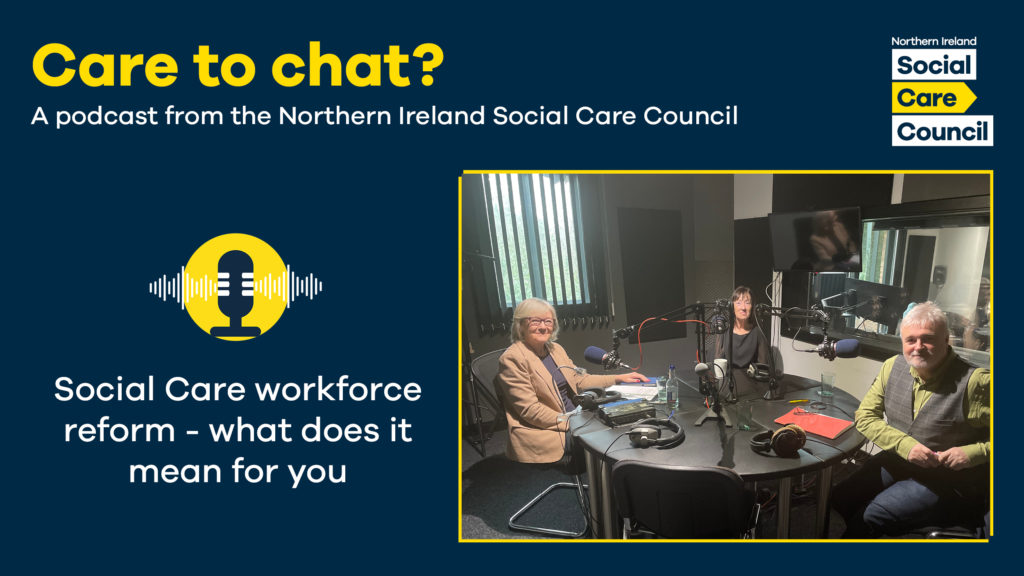 Social care workers are the largest health and social care workforce in Northern Ireland. With significant reform underway, what lies ahead for these health and social care professionals that make such a difference to our lives and how can we all value them more.
In a new episode of the Social Care Council's 'Care to Chat' podcast, we hear from Paul Rooney, a Professional Advisor at the Social Care Council and Elaine Somerville, Assistant Director of Social Work from the South Eastern Health and Social Care Trust.
Host Dr Wendy Austin MBE and guests discuss social care workforce reform, the value of social care and why reform is needed? What is happening? What does this mean for social care workers? Listen to hear all these questions and more are answered.
Big change is coming for the social care workforce, Paul Rooney confirmed:
"We do have a qualifications framework, we're developing under the reform work around an entrance level qualification for social care staff."
To find out more about social care workforce reform check out our explanation of what is and why it is happening: https://niscc.info/social-care-reform.
Paul continued by recognising the value of social care:
"It's a very complex area of work…and Elaine has outlined some of the areas social care work within, but they work across an amazing range within our system…palliative care, end of life and disability, sensory services, physical disability, learning disability, older people's services and mental, homelessness and addition…I could go on. This workforce is an amazing workforce it works significantly across the system connecting people up in their local communities and supporting them to live the way they want."
The Social Care Council releases a new episode every fortnight, discussing current topics about social care and social work regulation in Northern Ireland. Download, subscribe and listen to the latest Social Care Council 'Care to chat?' podcast episode today here, or by searching 'Care to chat' in your podcast player.
For more information
If you have questions or feedback about the podcast, email comms@niscc.hscni.net.