06 September 2023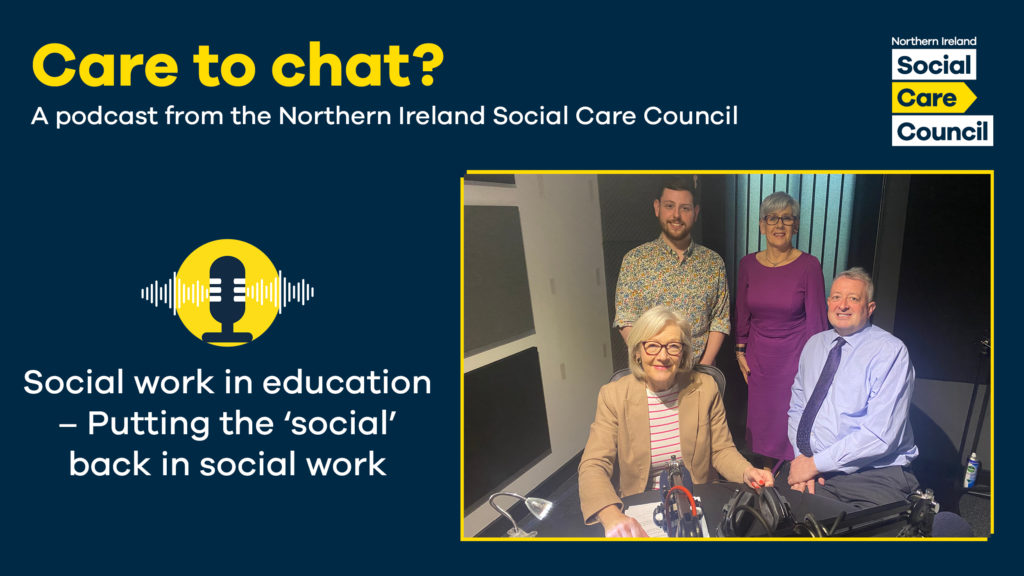 Here's a question – what do you think of having social workers based in schools?

A social worker in a school can provide unique support services to students. They work with children, parents, teachers, principals and the wider community to support the mental and emotional health needs of students and their families.

In the latest episode of the Social Care Council's 'Care to chat' podcast Dr Wendy Austin MBE and guests discuss this relatively new specialist area of social work practice in Northern Ireland which is providing a unique support service to students.

We hear from the Principal of Abbey College, Maria Quinn, Dylan Sloan a social worker working in her school, and Colin Reid from the Education Authority about social work practice in schools.

Dr Wendy Austin once again asks the questions that matter to find out about this growing area of social work practice in NI.

Colin Reid said:

"Schools are where children get their education, and they have relationships with teachers. Its where they feel comfortable…and teachers play a really important part in children, in their education, keeping them safe, helping them be educated, learn, develop. But we also need to support teachers in this very important task."

He continued:

"School social work is a discipline that works between education and the wider world, often bring the skills of social work into schools to work with teaching colleagues."

The Social Care Council releases a new episode every fortnight, discussing current topics about social care and social work regulation in Northern Ireland. Download, subscribe and listen to the latest Social Care Council 'Care to chat?' podcast episode today here, or by searching 'Care to chat' in your podcast player.

For more information

If you have questions or feedback about the podcast, email comms@niscc.hscni.net.