14 August 2020
The Northern Ireland Social Care Council hosted the first ever virtual Professional in Practice Awards ceremony on Monday 3rd August 2020 by Zoom. The event recognised all 171 social workers who received a Professional in Practice Award across four award categories.
A significant number of recipients completed their award under unprecedented circumstances brought on by Covid-19. This achievement shone a light on the determination and commitment social workers have to their profession and their ongoing learning and development.
Speaking at the ceremony, Chief Social Work Officer Sean Holland said:
'It's a real testament to social workers resilience and determination to care for people, to see how they've managed to adapt to all of this. I've been really impressed how social workers have risen to the many challenges over the past six months. It's also remarkable that, from any perspective, so many of you have persevered and remained committed to your professional development throughout this difficult time. Professional development is about becoming more reflective and more analytical as a practitioner that can respond to the needs of service users in a considerate and thoughtful way. Wanting to continue to improve your practice is probably one of the greatest ways to demonstrate respect to the people you work with and for, in whatever setting you are'.
During the virtual event, 4 awards were presented: Consolidation Award; Specialist Award; Leadership and Strategic Award and for the first time the Advanced Scholarship Award. Launched last year, the Advanced Scholarship Award aims to recognise and firmly set the position of social work in Northern Ireland as a developed and self-confident profession. Being the first award of its kind in the UK it allows for social workers leading at doctorate level to have their professional practice and academic achievement recognised by their professional framework. Speaking at the ceremony Patricia Higgins, Interim Chief Executive of the Northern Ireland Social Care Council said:
'We are delighted that this year we have the first recipients of the Advanced Scholarship Award. Once again you are leaders in this field as we are the first UK country to have this award. We have three very worthy recipients today: Judith Mullineux, Shirley Boyle and Paul McCafferty and I want to add my personal congratulations to them for this achievement, and for the bravery in being the trailblazers for this new award. For those of you who received PiP Awards today, your next adventure is to follow their footsteps The Professional in Practice framework is the envy of social workers and social work regulators across the UK, so be proud of it, use it, and take care of it.'
Morgan McIntyre from the Irish duo Saint Sister, joined the ceremony to send a message to all social workers 'Thank you for the work you do every day, you make the world a better, safer and happier place' and dedicated Irish Women in Harmony's powerful rendition of the song 'Dreams' by the Cranberries. Fergal O'Brien, Programme Coordinator for Social Work and Community Development Approaches, SHSCT, played the concertina and brought the event to a close.
---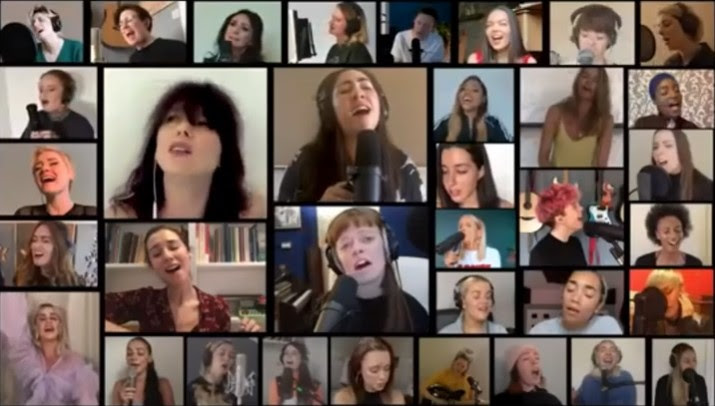 The virtual award ceremony was a first for the Social Care Council and we would like to extend our congratulations once again to all social workers who achieved their Professional in Practice Awards.
---
The event was recorded, and you can watch it by clicking the video below.
---