09 December 2021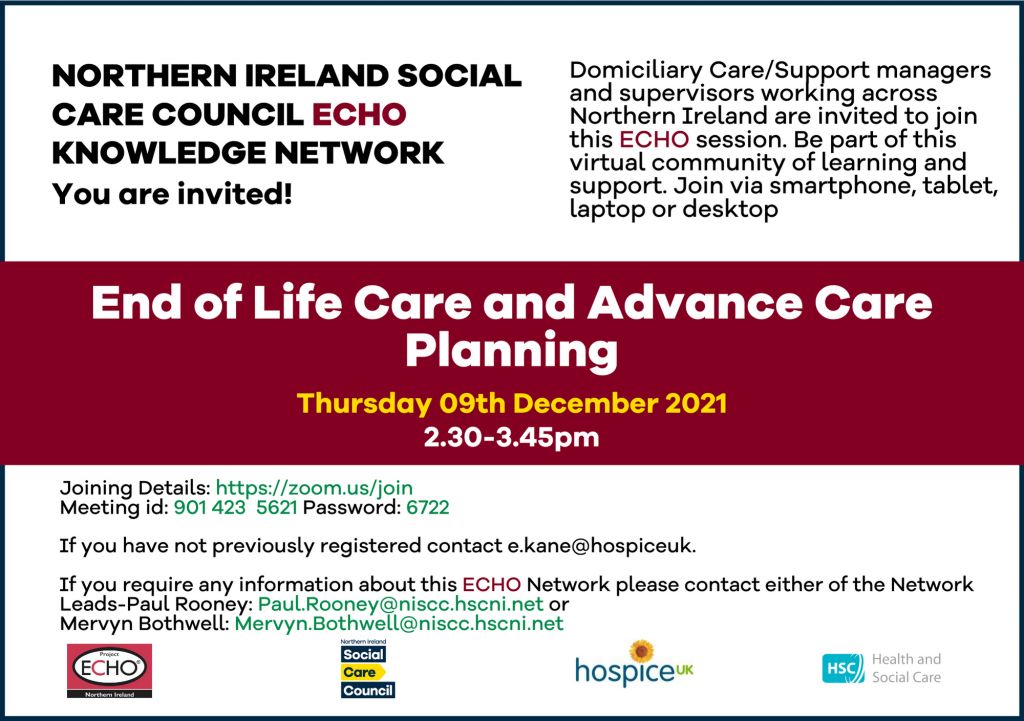 SOCIAL CARE ECHO-NORTHERN IRELAND SOCIAL CARE COUNCIL ECHO KNOWLEDGE NETWORK
THURSDAY 09 DECEMBER 2021; 2:00-3:45pm
The Northern Ireland Social Care Council ECHO Knowledge Network Hub would like to invite those with an interest in Care at Home (Domiciliary Care and Supported Living), especially Managers and Supervisors from provider organisations, to join the virtual session on 09 December; see agenda below.
The theme for this session is 'End of Life Care/Advance Care Planning'.
The following will be covered during the session:
What do I consider good end of life care looks like?
Being with/doing for: supporting the person and their family, or those important to them
When people don't agree: the importance of good communication
The impact on me: attending to staff health and wellbeing
Advance Care Planning: conversations about what matters to me
Where does Advance Care Planning fit with Care at Home?
We are so pleased to have Deirdre McKenna, Dementia Improvement Service Lead, Southern Health & Social Care Trust, to present and facilitate conversations at this session. Deirdre brings a wealth of knowledge and experience which also includes her recent involvement in the Department of Health's ACP Policy Development Programme.
The session will be important to attend as it will attempt to equip Managers and Supervisors to develop confidently in their roles. Additionally, details will be shared about Registration issues with the Social Care Council and one of the latest Social Care Council's digital learning resources.
The session will also provide an opportunity for mutual sharing as part of the COVID-19 update.
If you have not previously registered for this Network please do so by cop on 08 December by contacting Elaine Kane (e.kane@hospiceuk.org).
Kind regards,
Paul Rooney, Mervyn Bothwell, Meta Keenan, Alistair Fitzsimons, Julie Dickenson and Roisin Doyle
(Hub members)
____________________________________________________________________
AGENDA-'END OF LIFE CARE/ADVANCE CARE PLANNING; 09 DECEMBER 2021, 2:00-3:45 pm
2:00-2:05pm
Welcome, Introductions and Housekeeping-Paul & Elaine
2:05-3:00pm
End of Life Care/Advance Care Planning-a facilitated conversation-Deirdre McKenna
3:00-3:10pm
Registration issues and Engagement-Alison Shaw
3:10-3:25pm
Mental Health Awareness in the Workplace for Managers-Julie Dickenson & Mairead Harkin 
3:25-3:40pm
COVID Update-All
3:40-3:45pm
January's ECHO session-20/11/22-'Dementia-Community Based Approaches & Supporting Families'- Mervyn 
3:45pm
Close