13 October 2022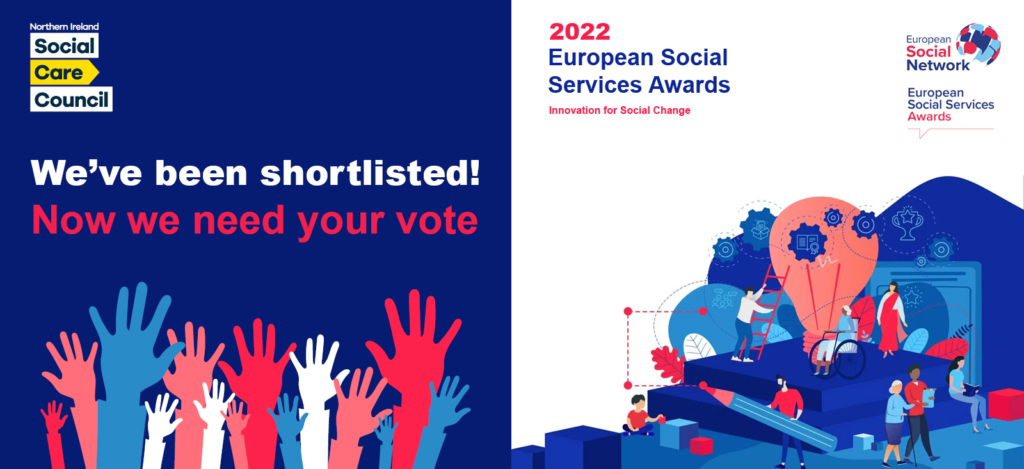 The Social Care Council has been shortlisted for a prestigious award by the European Social Services Awards 2022 for its Professional in Practice Framework (PiP) in the Workforce Support category.
Under the theme 'Innovation for Social Change', this year's Awards give visibility to those developing new, creative and inspiring solutions to a structural challenge, a deep-rooted problem or an emerging need. The Workforce Support Award recognises innovations that positively and profoundly impact the social services and social care workforce.
The Social Care Council developed the PiP Framework to ensure social workers feel confident and competent to practice effectively by stimulating and facilitating their continuous professional development. The partnership model of continuous professional development on which the PiP Framework is built is completely unique within social work and has influenced the aspirations of other regulators across the UK as it is delivered on the basis of partnership between employers, education providers, service users and carers, and the Social Care Council as the regulator.
Patricia Higgins, CEO of the Social Care Council, said:
"Being shortlisted for such a prestigious award is a great achievement and tremendous honour. The Professional in Practice Partnership has worked very hard to ensure that there is a breadth of learning and development within the framework to support social workers' in their practice. Coming on the back of our recent PiP Awards ceremony, this is yet further recognition of the dedicated work being carried out by our staff and all those who are part of our Professional in Practice Partnership."
The council also shares this great news with the Department of Health who have been shortlisted for their Reflections on social work and co-production project in the Research Project category. This is a guide designed to promote co-production in the commissioning, design, delivery, and evaluation of social work. It provides an increased and applied understanding of what co-production is, why it is essential in social work, and evidence of case studies from across Northern Ireland that will equip the reader to put co-production into practice where they are. A work of co-production itself, it was developed by a writing group of social workers and people with lived experience of services.
Joanne Sansome, member of the guide's writing committee, said:
"The guide's creation is a very real example of what can be achieved in any situation when people utilise the strengths of working collectively in a co- productive way. Because together all challenges can create opportunities to think differently, to find solutions and lead to positive changes and futures."
Online voting is now open.
Online voting will be open until Friday 28 October at noon.