19 March 2020
To support social care workers in delivering safe care during this period of Covid -19 (Coronavirus) we are giving you direct access to a digital learning module on Supporting Good Infection Control.
This resource can be accessed on your phone, tablet or PC and shared as a link to colleagues, across your organisation and with families and individuals. The module has been developed in partnership with the Department of Health, RQIA and the Public Health Agency and provides easy to follow steps to meet Standards of Practice and guidelines. It includes information on a range of areas that support good infection control within adult residential care homes, nursing homes, domiciliary care, day care and supported living settings.
Social work students are encouraged to discuss any concerns with course coordinators at their education institutions, or, if on placement, with their practice teacher – Universities/HEIs and designated placement providers will be able to provide appropriate guidance.
Your health and personal safety is of utmost importance as you provide vital care and services to the most vulnerable in our communities across Northern Ireland. We encourage you to use and share this digital learning resource to support you, and the people you care for. We thank you for your continued commitment and compassion in delivering the highest standards of care and practice.
---
Find the Supporting Good Infection Control resource here.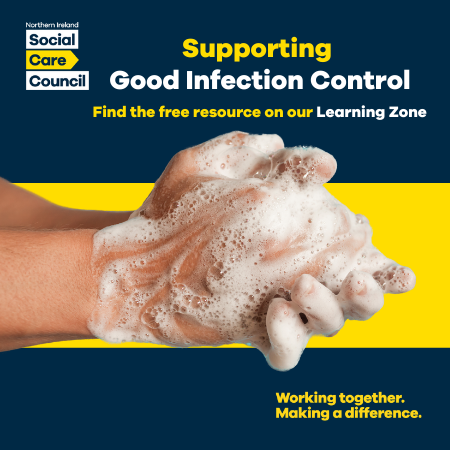 ---