21 August 2023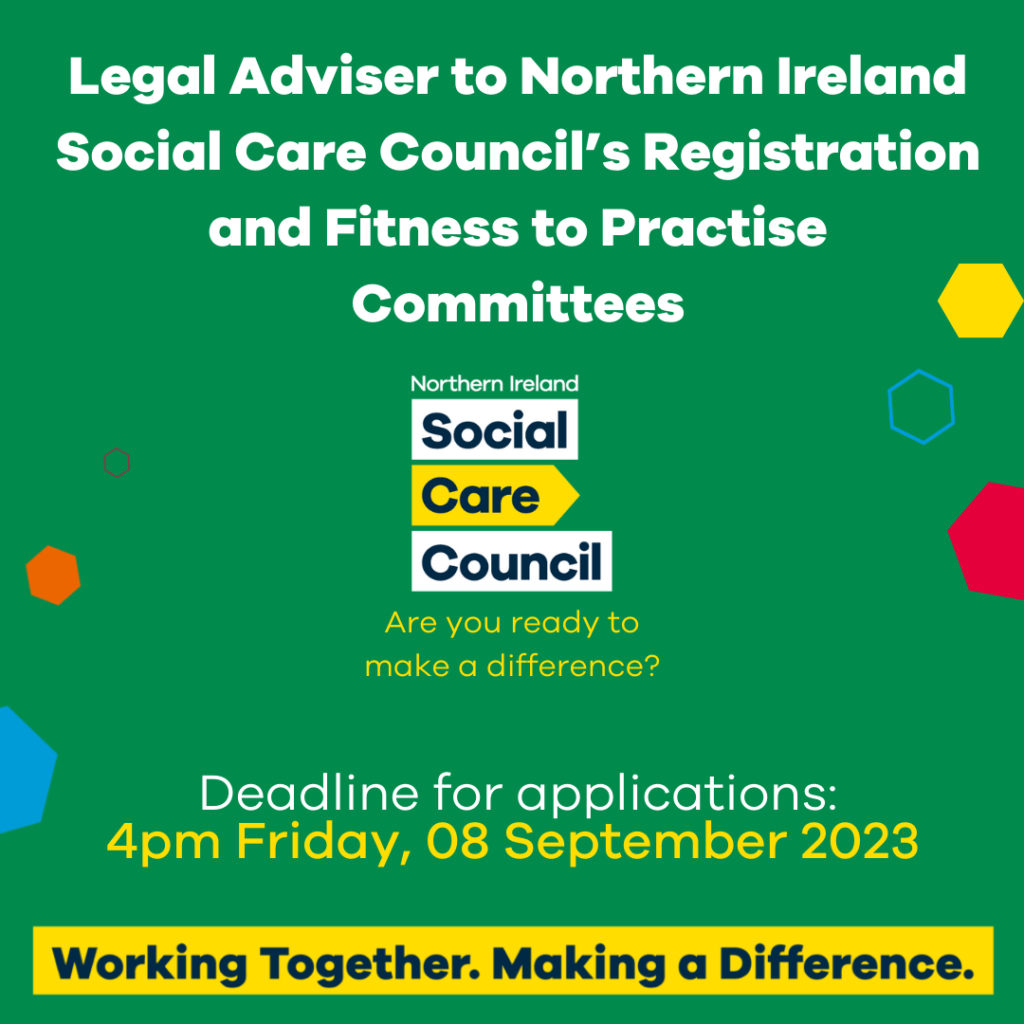 Legal Adviser to Northern Ireland Social Care Council's Registration and Fitness to Practise Committees


Closing Date: 4 pm on Friday 08 September 2023
£560 per day plus reasonable travel expenses
Minimum commitment of 10 – 15 days per year
James House, Belfast
About Us
The Northern Ireland Social Care Council is responsible for maintaining a register of social workers and social care workers in Northern Ireland, for setting standards for their conduct, training and practice, and for setting standards for and regulating social work education and training.
About the role
We are seeking to add to our existing pool of legal advisers. By acting as Legal Adviser to our Registration and Fitness to Practise Committees, you will ensure that proceedings before a Committee are conducted fairly, and will advise the Committee on questions of law. You will also be responsible for the drafting of the Committees' determinations and reasons.
About you
You must be a solicitor or barrister qualified to practise in Northern Ireland. Additionally, you must have at least three years' experience within the last five years of providing legal advice to, or appearing before, a health or social care professional regulatory Committee. You must be able to demonstrate a working knowledge of up to date relevant case law and a good understanding of the importance of the Social Care Council in public protection.
To apply
For more information about the role, please read the Information Pack.
If you believe that this role is for you, please submit your Curriculum Vitae and a completed Application Form by email to niscc.committee@hscni.net.
For any application related queries, please email niscc.committee@hscni.net or call Jordan Adair, Hearings Officer, on 028 9536 2329.
Closing date: 4 pm on Friday 08 September 2023.
Interviews are expected to take place on 29 September 2023.


---

We welcome applications from all Section 75 groups regardless of age, disability, ethnicity, gender, marital status, people with dependants, political opinion, religion, or sexual orientation. It is important that recruited members are independent of the Council, and therefore any persons related to members or staff of the Council should not apply.