06 July 2023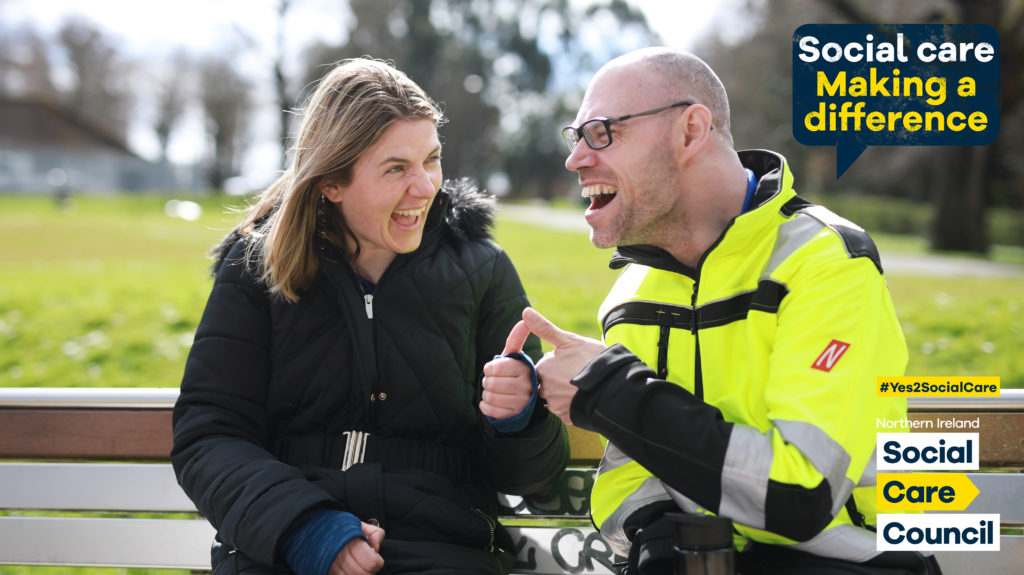 Rachael Mackarel is one of more than 38,000 social care workers in Northern Ireland. She's also one of the faces of a new campaign stressing the value of social care and encouraging people to choose it as a career.
The 'Social Care – Making a Difference' campaign, which is delivered by the Northern Ireland Social Care Council (the Social Care Council), was officially launched by Department of Health Permanent Secretary Peter May and Chief Social Worker Aine Morrison at a special event at L'Arche Belfast.
They met Rachael, who works at L'Arche and Thomas, whom she supports. He has physical and learning disabilities. Rachael and Thomas both feature in the campaign, alongside others who share their very personal stories of working in social care and the people they support.
Rachael says: "I find living my life alongside people who are marginalised to be greatly rewarding. When I left school and university, I wanted to make a difference in the world. I love my job, and I really value feeling that I've made that difference."
The launch kicks off a summer long campaign of activity, celebrating the vital contribution social care workers make to our community, and highlights how fulfilling a professional role in social care can be. The Social Care Council will be telling real-life stories through video snapshots, case studies and podcast episodes to showcase the day to day role of social care and inspire those considering it as a career.
Social care workers register with the Social Care Council to provide communities with support every day. Today over 38,000 are registered to deliver social care, making it the largest health and social care workforce in Northern Ireland.
The campaign is one of the many steps aimed at supporting Northern Ireland's social care workforce as part of the Department of Health's reform of adult social care. As at the end of May 2023, the top four roles for registered social care workers were adult social care workers (40.8%), domiciliary care workers (37.6%), supported living workers (7.8%) and day care workers (6.3%).
Speaking at the launch event Peter May, Permanent Secretary, Department of Health said:
"The Department is committed to providing opportunities for the true voice of the social care profession to shine – and, importantly, this includes the social care workforce. We know that social care professionals are dedicated and selfless and the launch of this campaign is the perfect time to acknowledge their efforts and remind us all of the important role they play in our communities."
Aine Morrison, Chief Social Worker, Department of health said:
"The Department of Health recognises the value of our social care workforce and is very committed to developing and supporting these roles."
Patricia Higgins, CEO, Social Care Council added that the new campaign will feature real stories about the enabling effect social care has on families and carers, and the difference that they make every day
"Each of us or someone that we love, may require the support of a social care worker at some point in our lives. Social care workers provide support to people in our communities every day to enable people to live full and independent lives – this campaign is recognition of that."
Agnes Lunny, CEO, Positive Futures who was involved in developing this year's campaign flagged the importance of attracting new people into working in social care:
'What makes social care a special career choice? I would pose the question in how many jobs can you say you make a real difference to people's lives, and cumulatively, to your community? Providing care and support to those that need it can be the most rewarding experience of your lifetime.""
Scott Shively, CEO and Community Leader, L'Arche Belfast added:
"It's important to remember that caring for our communities is at the heart of why we do what we do and it is why we love working in social care. . We are delighted to support this campaign, shining a light on the stories of social care workers who truly make a difference for some of the most vulnerable in society.
"
---

How to get involved?

– Do you have a social care story you want to tell? If the answer is yes email comms@niscc.hsnci.net.
– Help share our stories – For information about the campaign, and view social care stories, go to: https://niscc.info/social-care-stories.