09 August 2023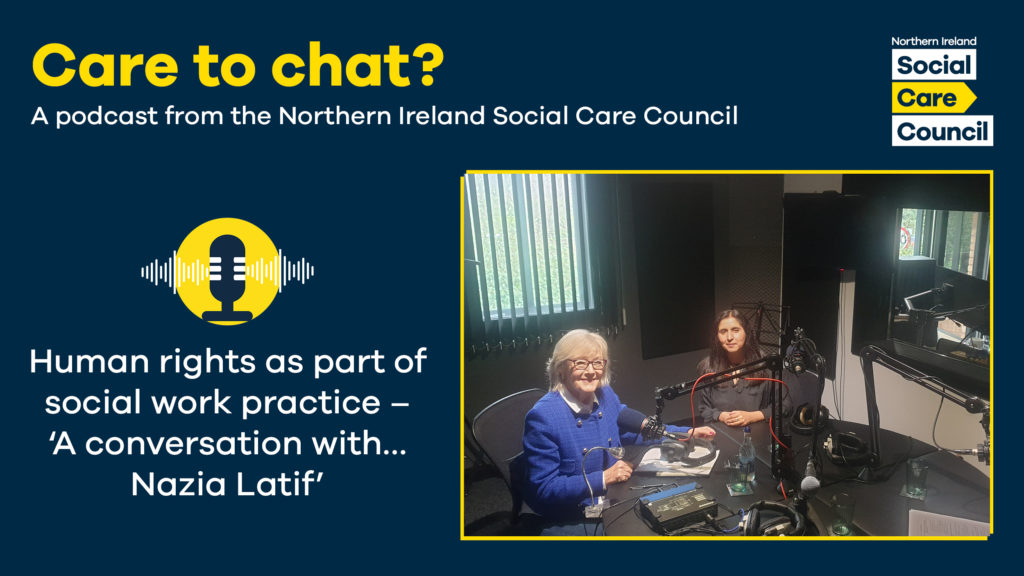 What does human rights social work mean for both service users, their families and for social workers themselves in practice?
In a new episode of the Social Care Council's podcast 'Care to chat' podcast episode, we hear from Nazia Latif, who has worked with the Northern Ireland Human Rights Commission and how runs her own organisation, Right Practice, that provides advice to help organisations meet their equality and human rights commitments.
She tells us about an important aspect of social work practice – human rights. Dr Wendy Austin MBE discusses with Nazia her career to date, what human rights is and why is it important for social workers.
If you are interested in human rights in health and social care this podcast is for you.
Nazia started off by saying:
"Human rights are for everyone, and for social workers as well. So, it's important from that perspective that social workers know their own rights And I think it's also very important to know that it's the law… so social workers are expected to comply with that legal framework in their daily practice."
She continued:
"Everyone knows the challenges that social workers face on a day to day basis and the extremely difficult decisions that they have to make and human rights is a really helpful framework for helping you work through all those decisions with the service user in a way that has satisfactory outcomes for everyone."
The Social Care Council releases a new episode every fortnight, discussing current topics about social care and social work regulation in Northern Ireland. Download, subscribe and listen to the latest Social Care Council 'Care to chat?' podcast episode today here, or by searching 'Care to chat' in your podcast player.
For more information
If you have questions or feedback about the podcast, email comms@niscc.hscni.net.