29 August 2023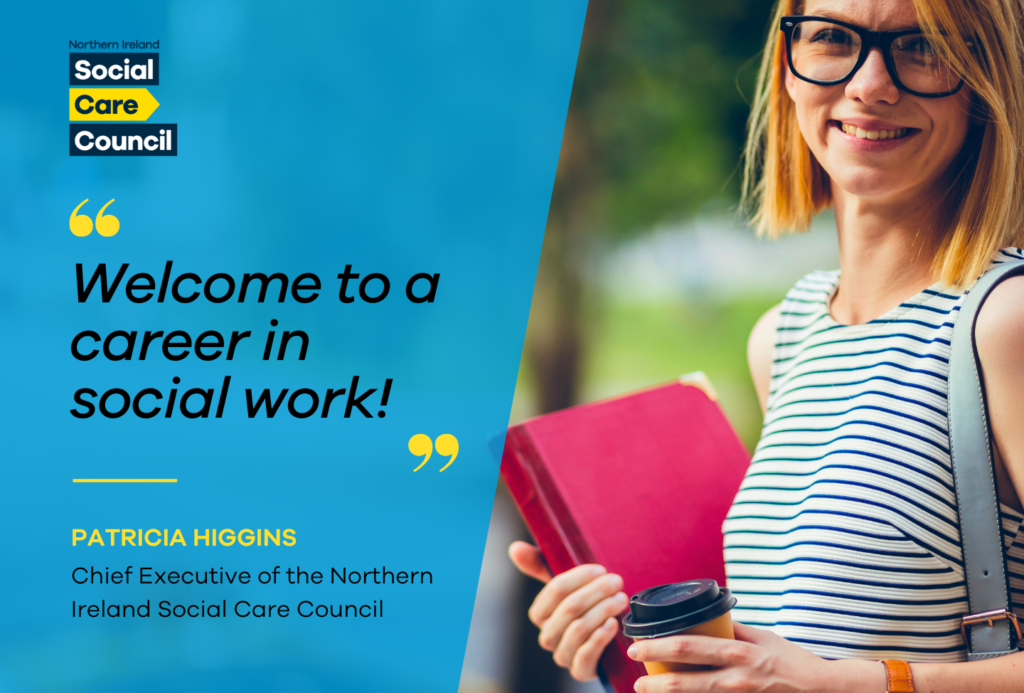 Patricia Higgins, Chief Executive of the Northern Ireland Social Care Council (the Social Care Council), welcomes students who are starting their studies and beginning their journey to becoming qualified Social Workers. 260 students will commence the Degree in Social Work at Queen's University and Ulster University next month. Open University students will start slightly later.
The Social Care Council is responsible for raising standards for the social work and social care workforce in Northern Ireland and the regulation of social work education and training, including the Degree in Social work.
Ms Higgins will be writing to student social workers in Northern Ireland in the coming weeks, to welcome them and to outline the Social Care Council's role as the regulator. Student Social Workers should register with the Social Care Council as soon as possible and familiarise themselves with Standards of Conduct and Practice.
In her letter, Ms Higgins will highlight three important points for students to remember;
"Congratulations to all those students who are beginning an exciting career in social work by starting their studies during September. I hope you enjoy the start of this journey to becoming a qualified social worker. As your regulator, we are here to guide you through what student registration means."
She added: "There are three things you need to remember. Firstly, the opportunities to make a difference from your social work studies are endless. Secondly, as a student social worker you have regulatory responsibilities. You need to register with the Social Care Council as soon as you can if you have not done so already. Finally, you need know what is expected of you as a social work student. It is important to understand that the standards apply to your student, personal and online conduct by reading the Standards of Conduct and Practice."
What to find out more? Stay informed
The Social Care Council has lots of information available online to help students with their responsibilities.
In addition to regular email communications directly from the Social Care Council, students are encouraged to check out the Social Care Council's digital guides and associate resources on the Learning Zone, follow its social media channels and subscribe to its 'Care to chat' podcast channel.