28 January 2022
We are excited to announce our first Social Care Managers' Forum of 2022 will be taking place on Tuesday 22nd February, 9.45am – 1.00pm. We would like to invite all our social care managers as well as deputy managers, supervisors and team leaders.
We are very pleased to welcome Michael A. West CBE as our keynote speaker. Michael is Professor of Organisational Psychology, Lancaster University; Senior Visiting Fellow, The Kings Fund; and Emeritus Professor, Aston University. Michael has written books and has published many articles; his 2021 book "Compassionate Leadership – Sustaining Wisdom, Humanity and Presence Iin Health and Socia Care' is factual, timely and challenging.Michael has also assisted in developing the Collective Leadership Strategy for Health and Social Care in NI (2017).

The Forum will also feature presentations from RQIA and the Social Care Council. The Social Care Council will be presenting an update on their role in the reform of the Social Care Workforce and some recent digital learning resources recently added to the Learning Zone. RQIA will provide an update on their current work as well as their work on the Dementia Consultation.

Register for your place at the Social Care Managers' Forum below:
After registering, you will receive a confirmation email containing information about how to join us on the day.
---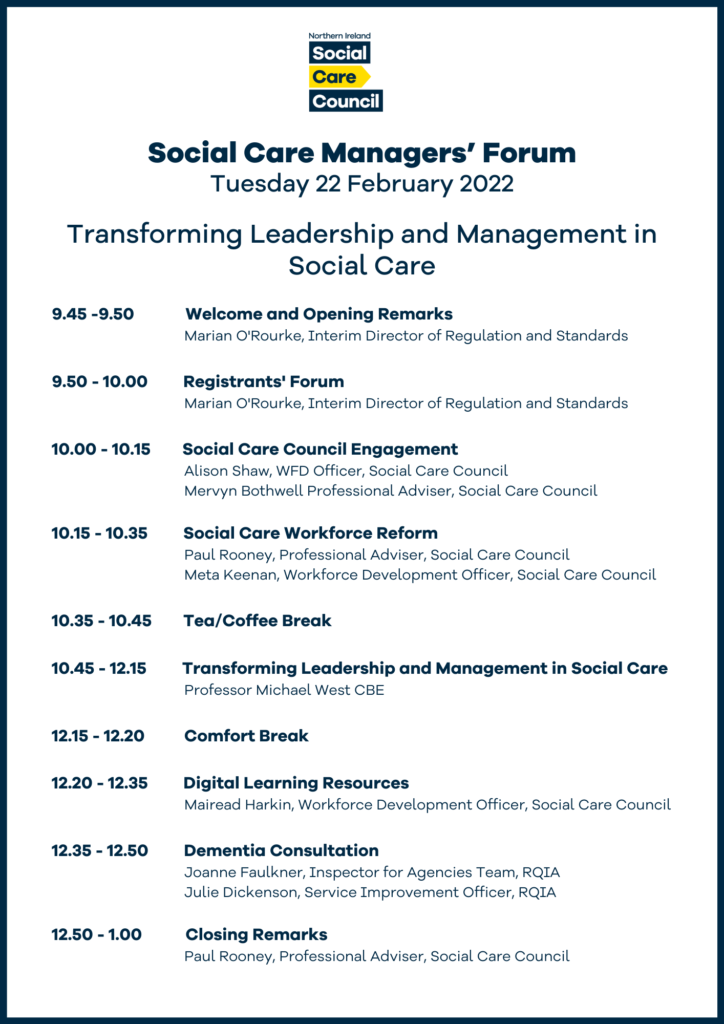 Download your copy of the Social Care Managers' Forum 2022 Agenda here.