To meet the criteria for registration Social Care Workers must have secured a position in one of the settings listed below:


– Adult Residential Care Worker
– Day Care Worker
– Domiciliary Care Worker
– Residential Childcare Worker
– Residential Family Centre Worker
– Supported Living Worker
---
Social Care Workers in the following roles may also register on a voluntary basis or if required to do so by their employer:


– Advocacy Worker
– Driver
– Education Welfare Officer (Not With Social Work Degree/Diploma)
– Environmental Technical Officer
– Outreach Worker
– Personal Advisor
– Rehabilitation Officer for the Blind
– Social Work Assistant
– Social Work Trainee
– Youth and Family Support Worker


---
To apply for registration as a Social Care Worker you must:


– Be employed in a social care organisation or
– Be registered for social care work with a recruitment agency or
– Have a start date for a social care position you have been offered and accepted
You should apply for registration providing the details of this post.

If you are newly recruited in one of the above circumstances you will have a period of time in which to obtain registration. However you should make an application to register as soon as possible after taking up post.

To submit an application you will need to create an online account, or login to your existing account via the following link and complete the online application form: https://portal.niscc.org/

---
In order for your application to be fully processed and approved for registration you must:


– Submit a completed online Application Form which has been endorsed by your employing organisation: when applying to register as a Social Care Worker, you will be asked to enter the name of the person from your employing organisation who will endorse your application. Endorsement of your application is then completed by your endorser via their own online account.
---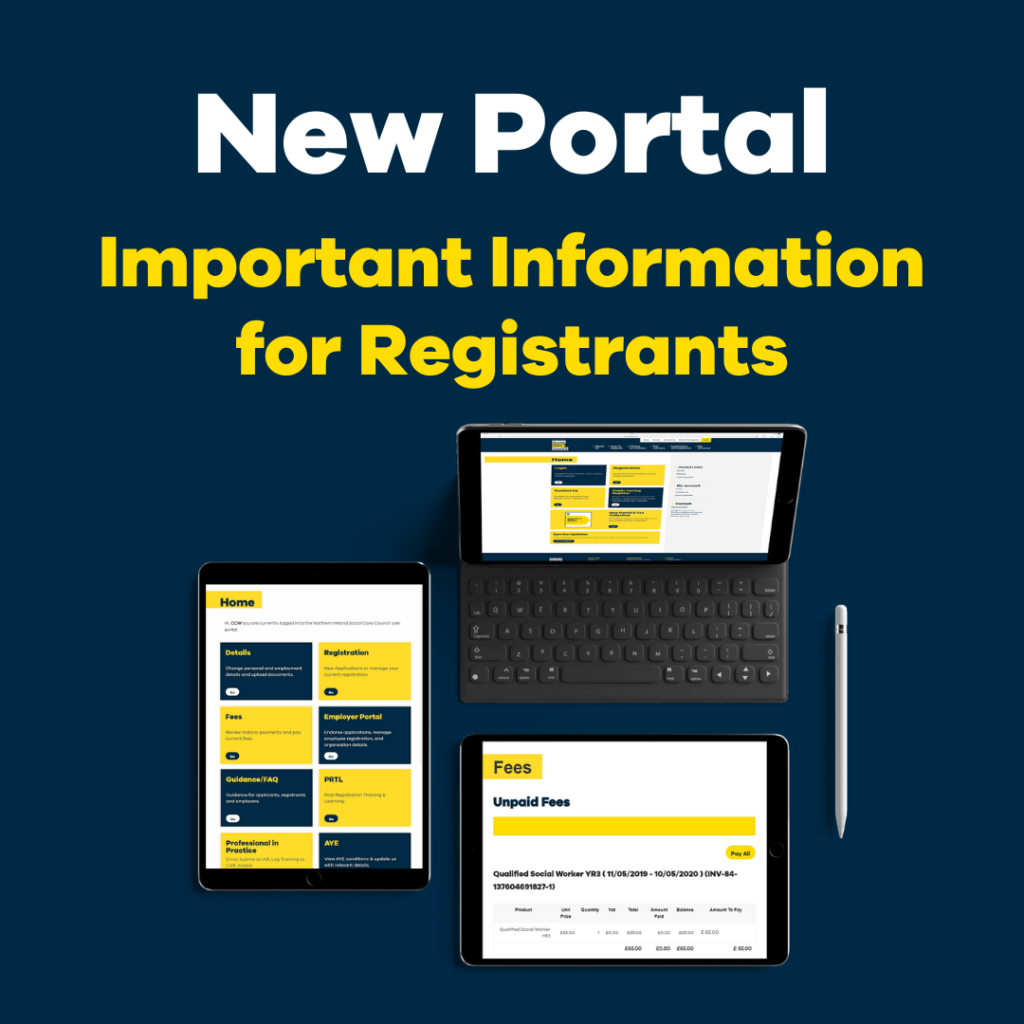 Launched Thursday 1st October 2020 our new portal will make it easier and faster for you to register, pay your fee and keep your details up to date – all within a few clicks.

Click here for guidance on how to use the New Portal.
---
The registration process


We manage each application according to the guidelines set out in the Registration Rules. This is to confirm your suitability to work safely in social care or social work. If you need advice about registering; if you are unable to use the online service because of your disability, or if you do not have access to a computer please contact our Registration Team for support and assistance. The team can be contacted by email at: registration@niscc.hscni.net
---
Timescales


An application to register will be processed within 6-8 weeks from submission, although this is dependent on timely completion of endorsement and the process may take longer if there are issues which require additional assessment, such as a criminal record, disciplinary record, or mental/physical ill health.
---
Your Registration Data


The Social Care Council is registered with the Information Commissioner and data supplied by you will be processed in accordance with the provisions of the Data Protection Act 1998. We electronically store the information you provide which will be retained according to our data retention and deletion policy.
Please note your data will be archived when we close your application or when you leave the Register. By submitting your application you consent to the processing of your personal data as described in the Social Care Council Data Protection Statement.
---
If you require any further assistance contact us.