01 November 2023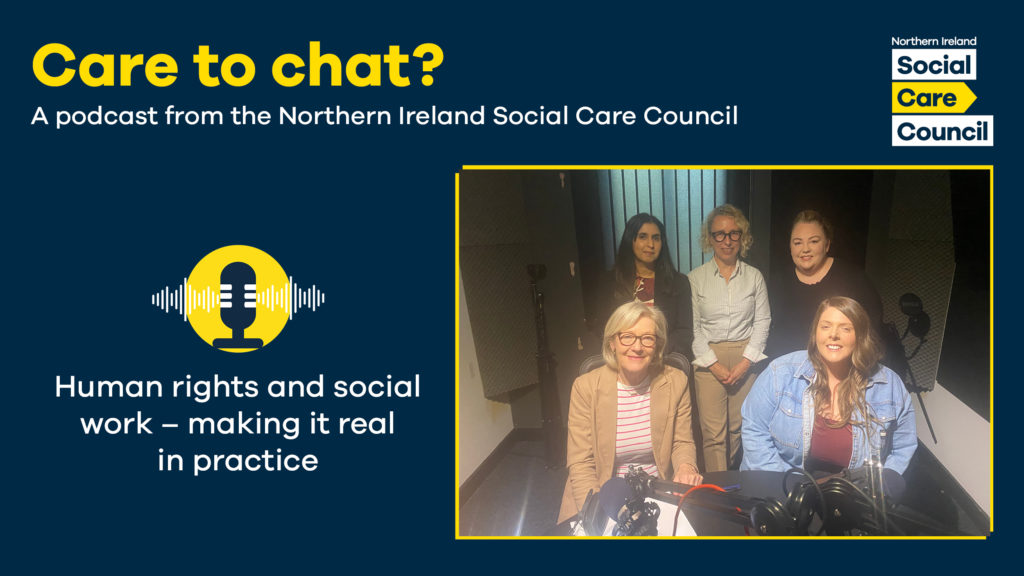 In this final episode in the Northern Ireland Social Care Council's 'Care to chat' 2023 podcast series hosted by Dr Wendy Austin MBE, we are taking another look at social work and human rights specifically in the context of children's safeguarding and young people in care. Experienced professionals contribute to the discussion including Jane Hynes, Senior Social Worker, Learning and Improvement Team, South Eastern Health and Social Care Trust, Geraldine McGuigan, Manager, Voypic, Suzanne Cunningham, Assistant Director of Children's Services, RQIA and Dr Nazia Latif, Right Practice.
This episode is a follow on from our previous episode (see previous related episode), where we talked with human rights expert Dr Nazia Latif. It explores further human rights in social work, and guests discuss how to make human rights real in practice. 
Suzanne Cunningham said:
"When you are making decisions, human rights need to be integrated in your thinking. You maybe don't say it out loud but think it. Always remind yourself of your training."
She continued:
"For social work staff, be human rights aware and ask questions. If you think of something that maybe isn't just right ask the questions. We are really good at talking…so use our voices and stand up for children's' rights."
'Care to chat?' will return with lots more important conversations in social care and social work in 2024. Have an idea for a future episode? Contact us on comms@niscc.hscni.net with your suggestions.
For more information
The Social Care Council's 'Care to chat?' podcast series, discusses current topics about social care and social work regulation in Northern Ireland. Download, subscribe and listen to the latest Social Care Council 'Care to chat?' podcast episode today here, or by searching 'Care to chat' in your podcast player.
If you have questions or feedback about the podcast, email comms@niscc.hscni.net.