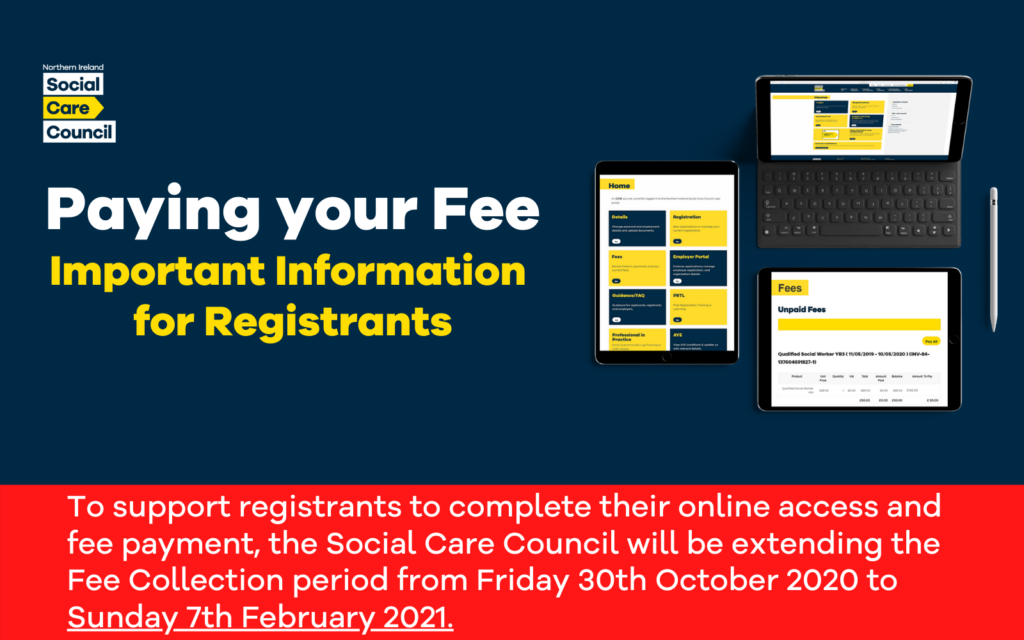 Our new online portal is now live to facilitate registration and payment of fees. Please note our offices are current closed and we are working remotely. If you have any queries follow these links:

– Registration or renewals contact: registration@niscc.hscni.net

– Technical/Portal issues contact: database@niscc.hscni.net

– Password reset click here: https://portal.niscc.org/Site-Access/Forgot-Username

Our team will respond as soon as possible, please do not resend your email query. Your registration remains valid; you can continue to work and won't be removed from the Register during this fee collection period.
---
Download our Guides


---
Download our FAQ


If you need to contact us with any other query about your registration please email to registration@niscc.hscni.net providing the following:

– Full name
– Email Address
– Date of birth
– National Insurance Number
– Social Care Registration Number (if possible)

Note your employment is not affected during this period of fee collection.
---


The Social Care Council hosted a number of information and engagement sessions for all registrants and employers on changes to the portal, paying your fee and our engagement events for Autumn/Winter 2020.

Click the video to watch.
---